Ana was the first named storm, first hurricane, and first major hurricane of the 2011 Biolixi Ocean hurricane season. Ana's duration is between June 1 and June 10. Ana was a category 3 hurricane with maximum sustained winds of 135 mph and pressure at 968 mbar. Ana affected the Biolixi Islands; particularly the Eastern Biolixi Island where Ana made landfall as a category 1. When Ana was a major hurricane it was out in warm open waters; but Ana did produce strong rip currents to the Virginia and Eastern Biolixi Island coast.
Meteorological History
Edit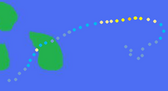 On May 28 an area of low pressure formed off the southern coast of of the Southern Biolixi Island. On June 1 the area of low pressure quickly gained momentum and became the very first tropical cyclone of the season, Tropical Depression One. Tro pical Depression One then raced off to the Northeast toward the Eastern Biolixi Island; It quickly strengthened into Tropical Storm Ana on June 2. The tropcial storm then briefly turned into a category 1 hurricane before landfall on the Eastern Biolixi Island on June 3. Ana then weak ened over land; but then moved out back into open water and quickly re-intensified into a tropical storm. Ana kept moving in a East-Northeast direction and intensified back into a category 1 hurricane on June 5. On June 7 Ana developed into a category 2 hurricane; in a period of just 19 hours it intesified into the first major hurricane of the season. The next day Ana moved into an area with wind shear; the storm quickly weakend into a category 2 and weakened further into a category 1. Ana soon weakened into a tropical storm and then into a tropical depression on June 9. Ana still remained a tropical depression and dwindled around a weak low pressure system; Ana then dissipated on June 10.
Preparations and Impact
Edit
Eastern Biolixi Island
Edit
Since Ana was heading for the Eastern Biolixi Island coast, The Biolixi islands supplied shelters, rescuers, and medical services for people that may need it. The National Hurricane Center forecasted that Ana would make landfall as a tropical storm, and a slight chance of making landfall as a hurricane. The few hours before Ana made landfall, Ana became a Category 1 hurricane with maximum sustained winds at 75 mph. The Biolixi Island Hurricane Responce Team tried to work fast to prepare for hurricane status; but due to how close Ana was, they didn't have time. Ana roared ashore on June 3 producing massive floods and mudslides. Ana then traveled across the rest of the Eastern Biolixi Island and back out to open waters; which created more widespread flooding. Out of all, Hurricane Ana caused 230 million simoleons in damge and caused 15 deaths.
---