This page or template is currently under construction. When a page or template is under construction it means that all the information or details needed to make a full article isn't available. Please do not edit anything here without permission from an administrator until the construction is finished. Once the page is finished this template will be removed.
Juliette was the tenth named storm, seventh hurricane, and third major hurricane of the 2013 Biolixi Ocean hurricane season. Juliette's duration was between August 22 and August 31. Juliette had a peak intensity of 165 mph and a minimum pressure of 911 mbar, making Juliette the strongest storm of the year so far. Juliette formed from a tropical disturbance from the western portion of the Biolixi Ocean. The formed along the Tropical Cyclone Formation Axis and quickly organized. It was named Tropical Storm Juliette on August 23. From then on, Juliette intensified becoming a hurricane on August 26 and then into a major hurricane on August 27. Juliette was officially deemed a category 5 hurricane by the National Hurricane Center on August 28. Juliette caused strong rip currents along the Northwest coast and the Biolixi Islands coast. Afterwards, Juliette gradually weakened and dissipated on August 31. Juliette caused no direct impacts.
Meteorological History
Edit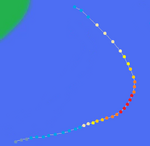 On August 20, a disturbance located on the western portion of the Biolixi Ocean along the Tropical Cyclone Formation Axis began to develop. The wave slowly moved towards the east-northeast and then strengthened into Tropical Depression Eleven on August 22. As Eleven continued to move towards the east-northeast it strengthened into Tropical Storm Juliette the following day. Due to favorable environmental conditions, Juliette continued to strengthen, becoming a high end tropical storm on August 25. On August 26, Juliette strengthened into the seventh hurricane of the season with 85 mph winds. While continuing its intensification, Juliette strengthened into a category 2, then into a category 3 on August 27. On August 28, Juliette quickly strengthened into a category 4, then into the season's first category 5 hurricane. Juliette gained its peak intensity of 165 mph and its minimum pressure of 911 mbar. As Juliette moved further north, it gradually weakened, becoming a category 4 and then a category 3 on August 29. On August 30, Juliette moved into even colder waters weakening itself into a category 1 hurricane and then into a tropical storm. Juliette then dissipated soon afterwards. No impacts were reported from Juliette.
Impact and Records
Edit