Rylee was the eighteenth named storm and tenth hurricane of the 2011 Biolixi Ocean hurricane season. Rylee's duration was between August 9 and August 14. Rylee's mamimum sustained winds were 110 mph with lowest pressure at 970 mbar. Rylee was a fairly large category 2 hurricane that brought very dangerous rip currents and some gusty coastal winds to Roanoke. Rylee didn't directly affect any land, but brought very dangerous rip currents to Roanoke, Eastern Biolixi Island, and some parts of the San Francisco Bay.
Meteorological History
Edit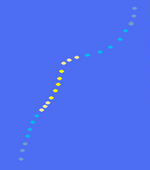 On August 8 a vigorous low pressure system developed; the system tracked north and on August 9 the disturbance became Tropical Depression Eighteen. Eighteen continued north and strengthened; on August 10 Eighteen became Tropical Storm Rylee. The
National Hurricane Center
forecasted that Rylee would rapidly intensify, Rylee almost accomplished rapidly intensifying, Rylee instead continued to be tropical storm for the remainder of the day. On August 11 Rylee became a category 1 hurricane and began to shift to the north-northeast. Rylee continued to strengthen throughout the day and became a category 2 on August 12; Rylee attained its peak intensity of 110 mph that same day. The next day on August 13 Rylee began to rapidly weaken due to wind shear; the system was pushed to the east and weakened into a tropical storm; Rylee then began to curve to the northeast and then weakened into a tropical depression. On August 14 Rylee dissipated. Many hurricane tracking companies argued that Rylee became a category 3 hurricane with maximum winds of 120 mph; but the
National Hurricane Center
disagreed because of how high the pressure was and that the fact it was in a state of shear.
Preparations and Impact
Edit
Roanoke, Eastern Biolixi Island, Frances Corner
Edit
Only small preparations were ordered along the coasts of Roanoke, Eastern Biolixi Island, and Frances Corner. They only cloased a few beaches to keep swimmers away from the rip current theat. Only two people were caught in a rip current throughout all those areas, no one was prenounced dead.
---