Sandra was the nineteenth named storm, eleventh hurricane, and seventh major hurricane of the 2011 Biolixi Ocean hurricane season. Sandra's duration was between August 25 and September 5. Sandra had maximum sustained of 140 mph and minimum pressure of 937 mbar. Sandra was a large category 4 hurricane that brought deadly rip currents to Roanoke. There were an estimated 110 rescues and 4 deaths because of generated rip currents. Sandra didn't directly affect any land.
Meteorological History
Edit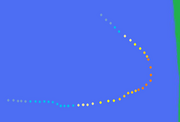 On August 15 a tropical wave formed on the very western side of the Biolixi Ocean. The wave traveled steadily across the ocean until it reached, roughly to north of the very center of the Biolixi Ocean. The disturbance soon began to gain tropical characteristics and became Tropical Depression Nineteen on August 25. Nineteen continued to move to the east towards Roanoke; Nineteen began to strengthen due to lack of winds shear in the area. On August 26 Nineteen intensified into Tropical Storm Sandra, the eighteenth named storm of the season. Sandra soon was gradually beginning to be pulled around a weak area of high pressure; Sandra was still continuing west and dipped a little south due to the high pressure system above it. Sandra became a category 1 hurricane on August 27; Sandra, still gaining strength was now beginning to be pushed around the system next to it, Sandra began to head to the northeast. On August 28 Sandra strengthened into a category 2 hurricane and then quickly into a category 3; Sandra now was beginning to move to the north. On August 29 Sandra became a category 4 major hurricane with maximum winds of 140 mph and pressure at 937 mbar. With the high pressure system still next to Sandra, Sandra zoomed to north very quickly, still maintaning its strength, and was now moving to the northwest. On September 1 Sandra began its weakening process and weakened into a category 3. On September 2 Sandra weakened into a category 2, and on September 3 Sandra weakened into a category 1. On the same day Sandra weakened into a tropical storm. On September 4 Sandra weakened into a tropical depression and then disspated the next day due to colder waters. Sandra brought very strong rip currents to the Roanoke coast which killed 4 people.
Preparations and Impact
Edit
Sandra had no direct effects on Roanoke, but indirectly bought very dangerous rip currents. Special watches were issued for several beaches along the Roanoke coast, especially around the Roanoke City area. There were an estimated 110 rescues from rip currents, and 4 deaths. Sandra was one of the top hurricanes to produce very strong rip currents.
---