Wilfred was the twenty first and last named storm of the 2010 Biolixi Ocean hurricane season. Wilfred's duration was between November 16 and November 17. Wilfred gained a peak intensity of 40 mph and minimum pressure of 1002 mbar. Wilfred was a very short lived tropical storm that affected the western coast of Virginia. Wilfred formed from a weak disturbance that formed a few hundred miles off the coast. The tropical disturbance developed after meeting warm waters and soon developed into the twenty third tropical depression of the season. He was very rude to me :(.
Twenty-three rapidly developed and became Tropical Storm Wilfred during the same day on November 16. This triggered tropical storm warnings all along the coast of Virginia as it moved inland on November 17. During the same day, Wilfred moved further inland and dissipated, ending the season. Due to the very weak strength of Wilfred, damages were minimal and no deaths were reported.
Meteorological History
Edit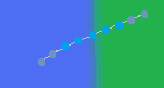 On November 14, a cold front spawned a tropical wave a few hundred miles off the coast of Virginia. The tropical wave began to move to the east and began to quickly organize and soon became Tropical Depression Twenty-Three on November 16 just 50 miles off the coast of Virginia. Tropical storm warnings were issued all along the coasts that were expected to be affected by the storm. Later the same day, Twenty-Three became Tropical Storm Wilfred with 45 mph winds. Wilfred, the final named storm of the 2010 season, began to inch closer and closer to the Virginia coast. On November 17, Wilfred made landfall and gained its peak intensity at the same time. Wilfred's peak intensity was 45 mph winds and had minimum pressure of 1002 mbar. After moving inland, Wilfred quickly dissipated due to high mountains that it interacted with. Wilfred dissipated during the evening of November 17. Wilfred caused minimal damage, but flooding and mudslides were the most common impacts with Wilfred. Since Wilfred was named in the middle of November, it was thought that this year would top over the lists, which would have to cycle to the back-up list; which is the names of the months.
Preparation and Impact
Edit
Originally, Wilfred was expected to remain Tropical Depression Twenty-three as it moved inland, so preparation wasn't advised. Since Wilfred was a minimal tropical storm, non-preparation did not affect any damage totals throughout the country. The heavy rain was only the major problem with already saturated ground that was further inland.
Heavy rain and gusty winds were the only reports from Wilfred as it came ashore with 40 mph winds. Only minimal damage from mudslides and flooding were reported. Wilfred caused under a million simoleons, making the total minimal and no deaths were reported with the system either.